Happy Thanksgiving!
Thanksgiving 2021
The only Thanksgiving painting I have done to date is from 2018 (see below).  Although I have not done one for a few years, it is the words that  I wish to use to express how I feel about Thanksgiving, versus paint.  And I have done a lot of that, as you can see below this very comment.  So, enjoy! 
Being thankful is something that's easy to say, but not always expressed easily.  I am happy there is a holiday dedicated to taking the time to gather family and friends around and enjoy the 'bounty' of our lives, collectively.   On this page below are my thoughts from previous years since I have been doing my art website.  All those thoughts still apply but each year are compounded by all those that I have lost.  It is the values of those that have passed on that make me appreciate those that are here.  It is "love" that I believe is the most important value that exists between us.  So, today, I am here to say I am truly thankful for the life I have had, the memories that culminated to another year of gathering together for Thanksgiving.  I appreciate those around me that give their time and their love, but most of all, 'themselves'.  My wife, my children, my grandchildren, my friends -- I'm thankful to all of you!
Happy Thanksgiving
Terry Kuder
"Tmagik"
P.S.  If you are looking for a delicious dressing recipe, my family's recipe is below.  Scroll all the way down the page to "Granny's Dressing" Recipe.  It is a corn bread-based dressing and my favorite part of the Thanksgiving meal.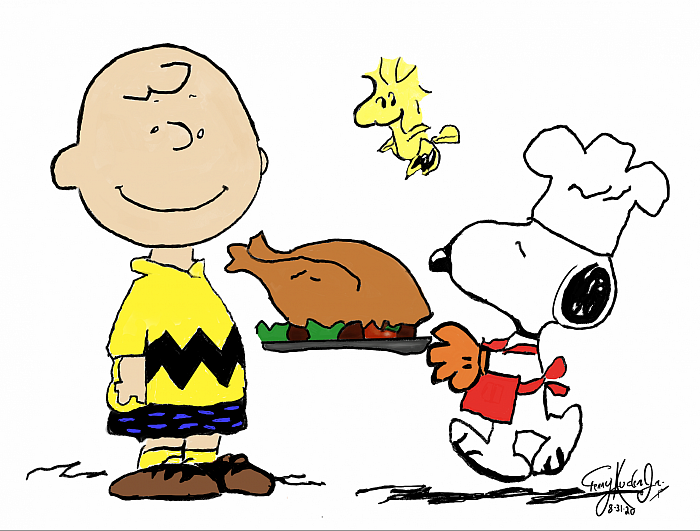 Thanksgiving Reminiscing 2020!
Ah yes!  A Thanksgiving Tradition that includes the late, great Charles Schulz's Peanuts characters.  Here, I have recreated these festive players in order to help remember watching the Peanuts 'gang' on television during this time of year.  Snoopy, one of my favorites, is simply delightful as he whips up an awesome meal for Charlie Brown, Lucy, Linus, Woodstock, Peppermint Patty and all the rest.  So, instead of a 'traditional' painting that depicts a certain setting, I thought I'd depart from that 'norm' in order to reminisce.  After all, isn't that what we've been doing here in 2020; departing from the norm?  With COVID-19 in our midst, this year's Thanksgiving gatherings may be limited as everyone works to push down the 'curve'.  We'll all have to get creative and find other magical ways to enjoy and include our families.  Meanwhile, on this page I've include my painting and thoughts from past Thanksgivings, to include my family's Turkey Dressing recipe.  
From my family to yours, have a safe, wonderful and happy Thanksgiving!
- Terry Kuder Jr.
aka "Tmagik"
Thanksgiving 2019 Message:  Enjoy One Another NOW!
I am reposting myThanksgiving painting from last year.  It still speaks to me -- I'm even going to leave the story I told last year that goes along with this piece.  A little sad news.  In the paragraphs you will see my recall of "Rita, Gene, Kenneth, and Dalene" -- people I grew up with.  Well, Dalene passed away in 1986 (at age 22), Kenneth passed in 2017 (age 51), then last year right before Thanksgiving (Gene passed) and Rita really loved that I had mentioned them in this post.  She lost all of them...so very sad.  Well, this past August 30th, Rita passed away.  She found out she had the same cancer her husband Gene had and passed just 2 weeks after learning.  Growing up, these people were what Thanksgiving was to my family and I.  This is the first Thanksgiving I will have with none of them being in this world.  It is a stark reminder that our time here on Earth is 'but a vapor'.  Live it now.  Hug one another now!  Put up with one another's quirks.  It is what makes us all different; and yes, sometimes intolerable.  But I have learned after many losses in my 53 years that family is exactly what Thanksgiving and these holidays are really all about.  Rita, Gene, Kenneth, Dalene -- I miss you all.  But I know you are all reunited with one another, finally.

Happy Thanksgiving everyone!  Enjoy my family's Dressing Recipe -- it's over 100 years old.  Scroll to the bottom for detailed instructions!  
2018 Thanksgiving Message:  Remember the many Years
I was ready for Thanksgiving in August when I painted my first ever Annual Thanksgiving painting; a tradition I hope to repeat in years to come.  I named this painting "Simply Thanksgiving" based on a premise that this holiday's foundation is not complicated as it is based on love.  Love for family.  Love for our neighbors.  Love for our community.  Love for our country.  But most of all, Love for God; because with God, there is no love.  It is that simple.  So, from my heart, I reflected on the many Thanksgiving meals I have had over my lifetime.  Of course, most are childhood memories when friends and family would join us making for a wonderful, magical day.  My mom had a lifetime friend (and still does to this day).  Her name is Rita and her husband Gene.  Their kids Kenneth (my age) and Dalene.  And of course my sister, Cilla. Then other parts of our family we would go visit and only see once a year due to distance.  But, it was a magical day.  A day where problems were melted away for the moment.  People gathered around telling stories of old, laughing, ribbing one another at times and of course eating, napping, then eating again.  Later, we would take in a movie or go bowling.  

Now, as the years have melted away, so have a lot of people.  In my case, many family and friends have passed away. The people I mentioned above, Kenneth, passed away last December at age 51; suddenly and unexpectedly.  Dalene passed at the very young age of 22 in 1986.  And now today as I write this very entry, Gene, with Rita at his bedside is fighting for his life.  Please keep both of them in your prayers.  And I share this here because this is how life goes -- it doesn't seem fair at all, but it gives us all the more reason to continue this tradition of gathering around the table, the living room, the movies, or just taking a ride down an old country road -- to laugh again, reflect on old times and enjoy those around us. 

I will be doing the same with my own little family this Thanksgiving.  Around me will be my wife Vanessa, who without her, McDonald's is probably where we'd all  be!  She can kick the heck out of the dressing recipe I've shared below and even made a few modifications to make it her own.  Our son Corey, his wife Rosie, and our 5-year old granddaughter Airikah will all be with us as we continue the wonderful traditions of Thanksgiving.  Of course there are those not mentioned here that live at a distance.  For us, mostly in Florida and Georgia.  We'll Facebook and text away from our state of Minnesota our experiences while they do the same to us.  We'll share our selfies, our turkeys, and favorite desserts.  This is where the main ingredient of Thanksgiving exists -- in our hearts. This holiday is about family, about love, about laughter, about enjoying one another; right now, while we can!  After all, it is 'Simply Thanksgiving'.
As a special tribute to my own family, I would like to share with you my family's Dressing Recipe.  This comes from my mother's side of the family.  My mother referred to it as 'Granny's Dressing'.  It's the only dressing I could ever imagine for my own Thanksgiving.  So, if you are out there and want to have a wonderful, tasty dressing to either stuff in your turkey, or cook alongside (or both, like we do!) -- then enjoy "Granny's Dressing".  But most of all, enjoy one another.  Look around and take it all in.  We don't live forever and I can tell you from experience, this is probably the best opportunity we get all year to truly express our love to one another.
Happy Thanksgiving everyone and enjoy my family's dressing recipe below.
Terry Kuder Jr.
'Tmagik'
"Granny's Dressing" Recipe
======================
MAKE THE BROTH:
Soup pot: whole Chicken
cover with water: gallon and a half
4 stalks of cerlery w/ leaves
1 onion
stick of butter
salt pepper
thrown in a gizzard
cook 2 hours until chicken falls off bone....
MAKE THE CORN BREAD:
2 8" skillets 400 degree ...25-30 mins
4 cup flour
4 cup corn meal
1 crisco
1 milk enough to make moist not soupy- put in graduly
1 egg 
PUTTING IT ALL TOGETHER AND COOK:
dump in big pan
once corn bread is cool, crumble
chip up as much meat that you want to put in the dressing
1-2 bunches of celery
2 big onions
saute celery on very low heat   20 mins in butter crisco
5 mins left put in onion
Mix all together with corn bread... celery, onion, meat and broth - mushy .. salt and pepper to taste
cook in oven for 375 for until crispy on top..
30-45 mins
Half cup of turkey or chicken broth in dressing when you go to cook (we cook after Turkey is done and use the broth, but either way tastes fine.
Enjoy and Happy Thanksgiving from all us to all of you!